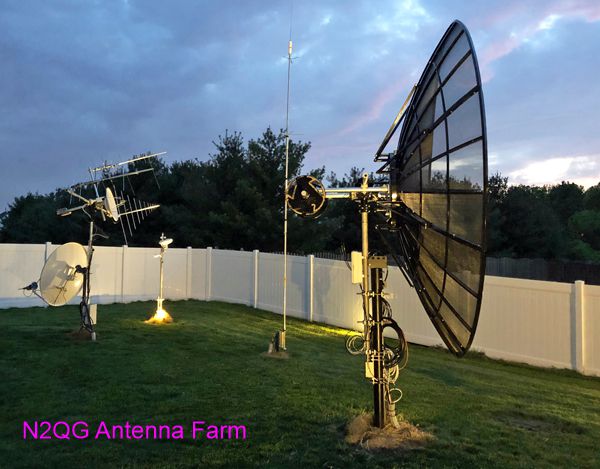 This is the latest addition to my antenna farm.  It's a 12 ft mesh parabolic antenna on a heavy-duty AZ/EL rotator.  My intention is to use it for 23cm and 3 cm EME, amateur DSN, as well as for next-generation amateur satellites/CubeSats and (hopefully) planetary probes.
Fortunately, my wife doesn't mind my weird hobbies, my deed doesn't have HOA restrictions regarding antennas, and New Jersey has a specific law that prohibits municipalities from adopting zoning ordinances that prohibit construction or use of antenna structures by federally licensed amateur radio operators (Act from Assembly No. 3641 of the State of New Jersey, 211th Legislature, introduced January 10, 2005)!
Thanks to the nice people at the municipal office, I was able to get a zoning/construction permit from my township with no issue.  The construction inspector already gave me approval on the footing, so now it's time to load a feedhorn and start to QSO off the Moon.  The antenna is smaller than the maximum I requested in my permit, so I can still grow it by another ~3 ft in case I feel the need for a few more dBs.
Of course, I'm already thinking about my next antenna project.  My thought is a tall tower to support a very large 2m/70cm EME array along with a 6-element HF beam.  According to NJ Act 3641 I can put up a 70ft tower, and then place the antennas on top of that:
"No governing body shall adopt a zoning ordinance that prohibits or has the effect of prohibiting the construction, maintenance or use of an antenna and support structure therefor by a federally licensed amateur radio operator. Zoning ordinances may reasonably regulate the location and height of those antenna structures for the purposes of health, safety or aesthetics; provided, however, that those ordinances permit sufficient height of those antennas and support structures so as to reasonably accommodate amateur radio communications by federally licensed amateur radio operators.

Restrictions imposed on such antennas and support structures by ordinances shall constitute the minimum practicable regulation necessary to accomplish the legitimate purposes of the governing body enacting that ordinance. For purposes of this section, it is presumed that any ordinance that prohibits or has the effect of prohibiting any antenna support structure that is 70 feet or less in height above ground level, exclusive of any antenna upon the structure, is unreasonable. No federally licensed amateur radio operator, applying for permission to install or modify an amateur radio antenna or amateur radio antenna structure, shall be required to pay an application fee that is in excess of that which may be assessed for residential variances generally, nor shall such applicant be assessed any amounts for legal, technical, or other consultation or advisory costs incurred by the reviewing agency in evaluating the application submitted."
 I love my wife and I love NJ!