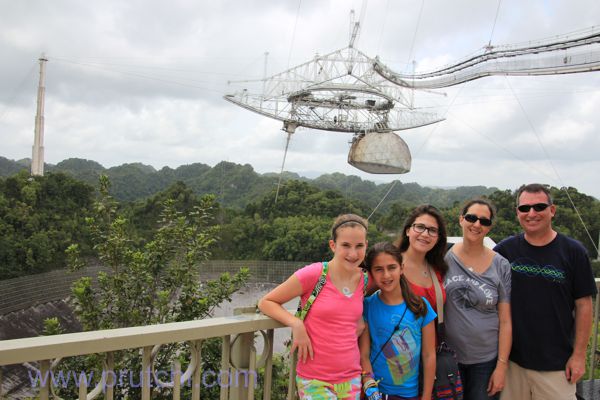 This summer we fulfilled a life-long dream (at least for some of us) and visited the Arecibo Observatory in Puerto Rico.
This is the largest single-dish radiotelescope in the world.  The reflector is 305 m (1,000 ft) in diameter – a tad bit larger than our home-brewed radiotelescope.  The Arecibo system is a semi-transit telescope that has a fixed primary reflector with secondary (Gregorian reflector) and a delay-line feed.
This observatory is operated by the company SRI International under cooperative agreement with the National Science Foundation. This observatory is also called the National Astronomy and Ionosphere Center (NAIC).  The Arecibo radiotelescope is the world's largest single-aperture telescope. It is used three major areas of research: radio astronomy, aeronomy, and radar astronomy observations of the larger objects of the Solar System.
Click here for more high-resolution pictures on our Flickr photostream.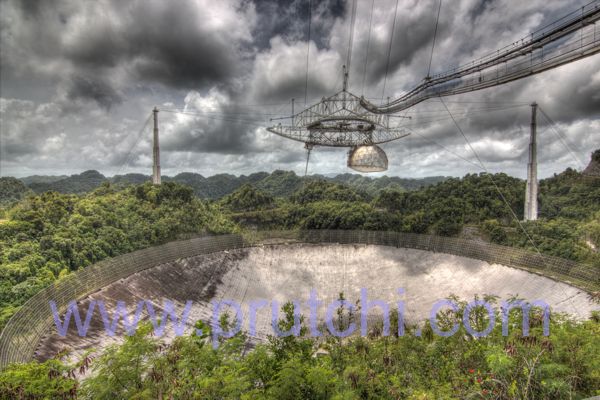 Puerto Rico, August 2012
Please visit www.diyPhysics.com and www.prutchi.com for other cutting-edge d.i.y. projects, and remember to check out our new d.i.y. Quantum Physics book: