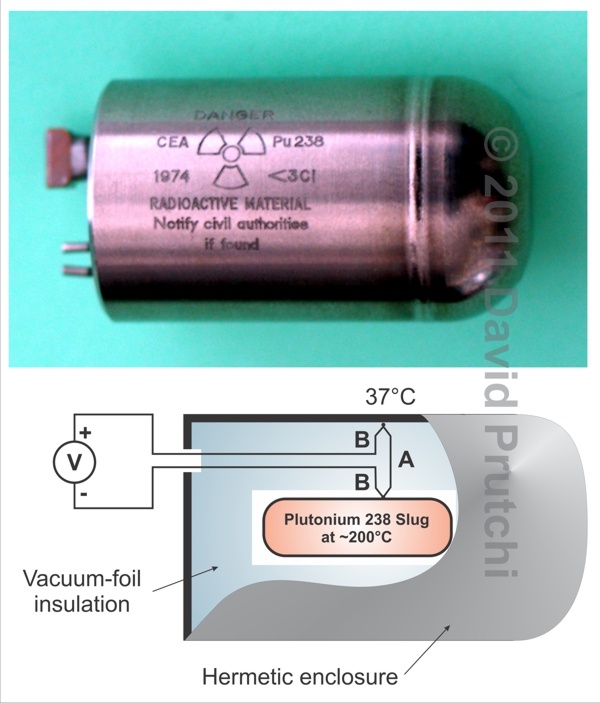 I am placing information about nuclear-powered pacemakers, including RTG and betavoltaic power sources under my www.implantable-device.com under the "Nuclear Batteries" Category.
We modified a surplus Civil Defense V-700 radiation survey meter made by Electro Neutronics Inc. (Model 6-b) into a very capable radiation counter capable of working with both Geiger-Müller and PMT scintillation probes. We modified the front panel to accommodate the new switches, connectors, and panel light. In addition, we placed a Veeder-Root count totalizer module on the side of the box. The new electronic components, including a Zener diode stack and a PMT preamplifier are wired directly to the original printed circuit board.
The following file shows each step in the modification process with large color pictures and expanded diagrams
Click here for tutorial in pdf format
Click here for datasheet of Veeder-Root totalizer module
More information and experiments available at:  www.diyPhysics.com
Errata for: D. Prutchi and M. Norris, Design and Development of Medical Electronic Instrumentation – A Practical Perspective of the Design, Construction and Test of Medical Devices, ISBN: 0-471-67623-3, 450 pages, John Wiley & Sons, Inc., Hoboken, NJ, November 2004.
Pages 86, 87:
October 18, 2005 – Bob Higgins brought the following to my attention:
"…On page 86, the slew rare limit bridge values appear to limit SR to 333V/s. The largest gain before the bridge is 500, so the limit appears to be 0.66V/S applied to the ECG signal, but earlier in the book, 0.33V/s is the recommended limit to block pacemaker pulses…" Continue reading→