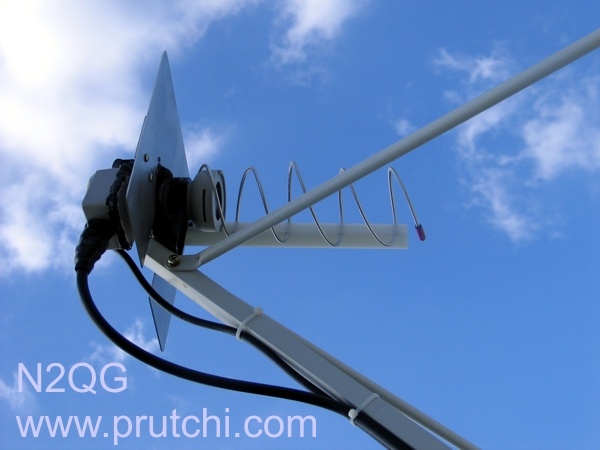 The high-gain antenna on my space communications array is based on a Fortec Star 120 cm dish.  This is a high-quality, large dish designed for motorized FTA reception of analog, digital, and high-definition programs on Ku band satellites.  I built a feed that combines a KU band horn for free-to-air (FTA) satellite reception with a helical feed for transmission and reception in the amateur L-band (23 cm, 1,296 MHz).
Being a peace-loving atheist, I am not interested in the religious and radicalized political junk that is most prominent over FTA.  Instead, I use the Ku-band transmissions from geosynchronous FTA satellites as known-Az/El beacons to calibrate the aim of my array.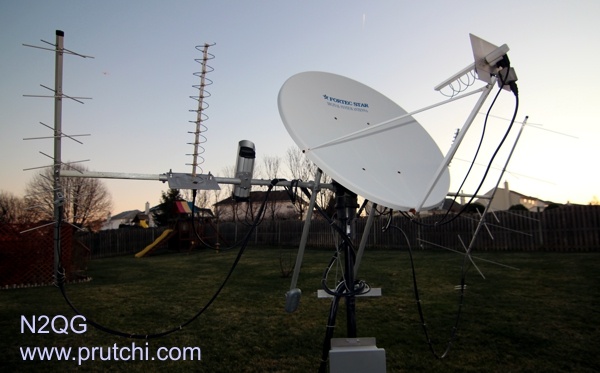 The Fortec Star 120 dish is small enough to be handled by a Yaesu G5500 Az/El rotor, yet provides 21.7dB gain in the L-band, and 27.7 dB gain in the S-band.  In addition, it provides enough gain for the Ku LNBF that good FTA satellite reception is achieved despite the polarization mismatch that results from Az/El aiming without a dedicated geosynchronous horizon-to-horizon motor.  The following table shows the specs for the Fortec Star 120 cm dish:
Specification

Value

REFLECTOR

Type

Offset

Offset Angle

24.62 0
Short Axis
120 cm (47″)

Long

Axis

132 cm (52″)

Aperture Efficiency

75% min.

C – Band Gain @ 4.0 GHz

32.78 dB

KU – Band Gain @12.5 GHz

43.32 dB

F/D Ratio

0.6

Focus Length

720 mm  (28.3″)

Material

Galvanized Steel

Finish

Polyester Powder Coating

Color

Grey / Cool Grey

MOUNTING

Mounting Type

Ground, Pole & Wall Mount

Adjustment Type

AZ / EL Mount

Elevation Angle Range

25° – 77°; 17° – 90°

Azimuth

0° – 360°

Material

Steel

LNBF Arm Length
755mm (29 3/4″)
LNBF Arm Support Struts Length
901mm (35 1/2″)

Finish

Polyester Powder Coating

Color

Grey / Cool Grey

Pole Diameter Acceptable

45 – 75 mm  (1.75″ – 3″)

Net Weight

31

lbs reflector and brackets without floor mount

ENVIRONMENT

Operational Winds

25 m / sec

Survival Winds

50 m / sec

Ambient Temperature

-40°C ~ +60°C

Relative Humidity

0 ~ 100 %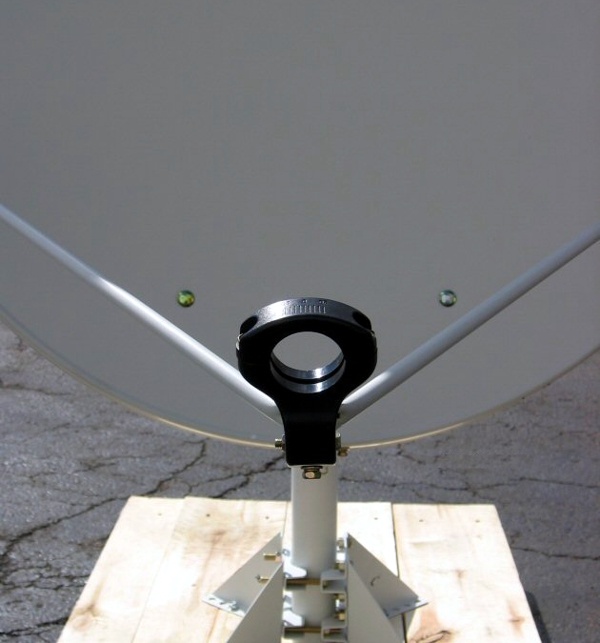 The Fortec Star 120 comes with a 40 mm LNBF plastic mount.  I purchased an Invacom SNH 031 LNBF to mount on the dish.  This horn is among the best LNBFs on the market, boasting an incredibly low noise figure of 0.3 dB as shown in its table of specifications: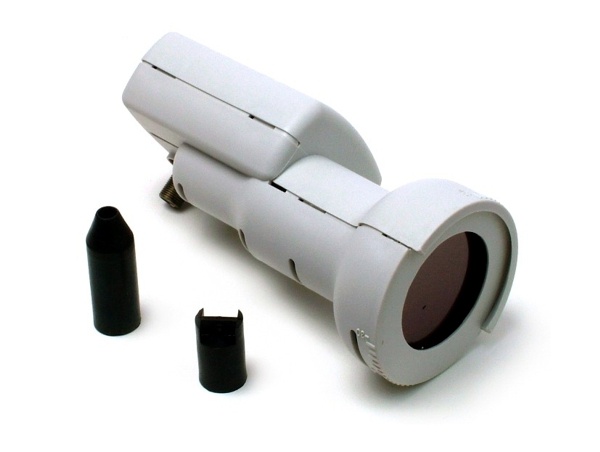 | | |
| --- | --- |
| | 10.7 – 12.75 GHz |
| | 950 – 2150 MHz |
| | 9750 / 10600 |
| | ON (required) |
| | 0.3dB typical |
| | 50 – 60dB |
| | 40mm clamp |
| | 0.6 |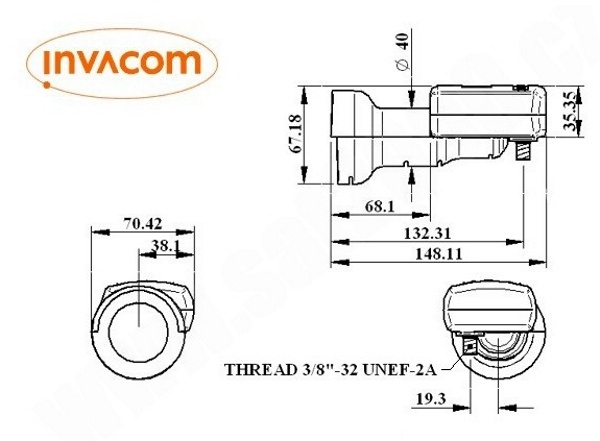 I fabricated an aluminum plate that serves as both the L-band's helix reflector, as well as a mount for the L-band helix feed that fits over the neck of the Invacom SNH 031 LNBF:
A Delrin (acetal) stand and a panel-mount female N-type connector mount directly to the plate.  In turn, the plate is attached to the LNBF mount with a stainless-steel machine screw: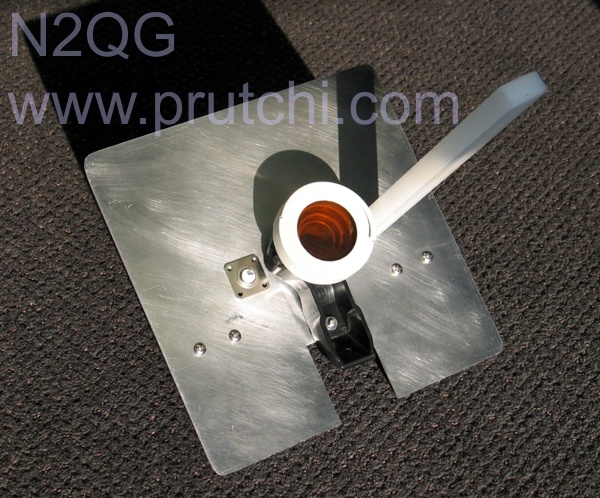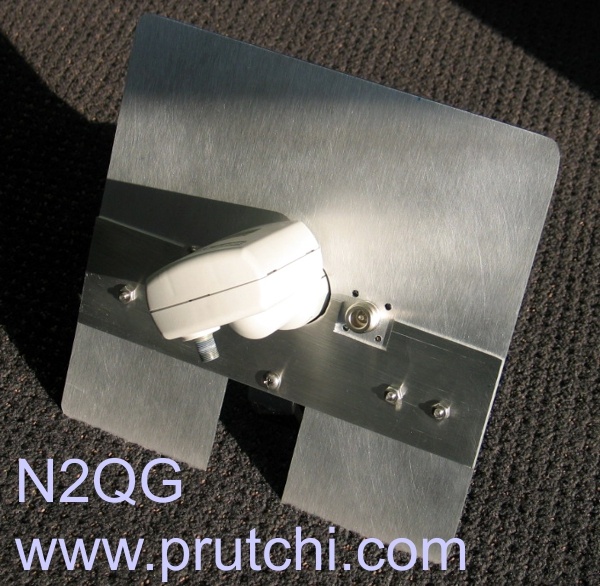 I made the helix out of semi-rigid coax cable (the "shield" serves as the conductor).  Feedpoint impedance of and air-wound helix antenna in the axial mode is 137 Ohm, so matching is required to enable use of standard 50 Ohm coax cable. I did the impedance matching with a quarter-wave stripline above the reflector's ground plane as shown in the pictures below: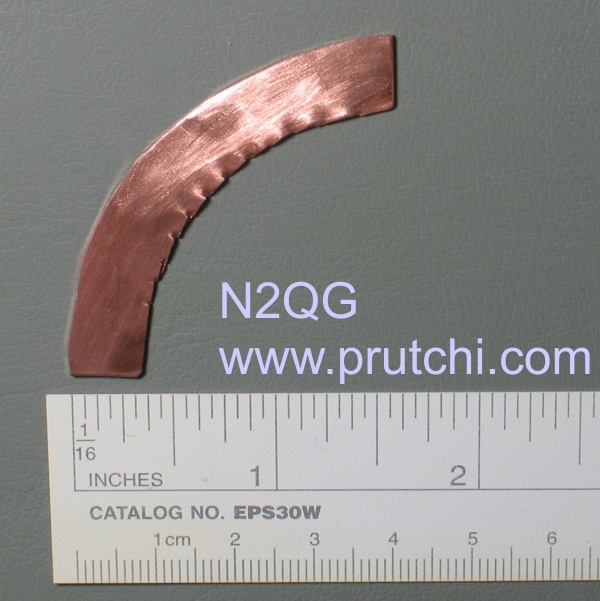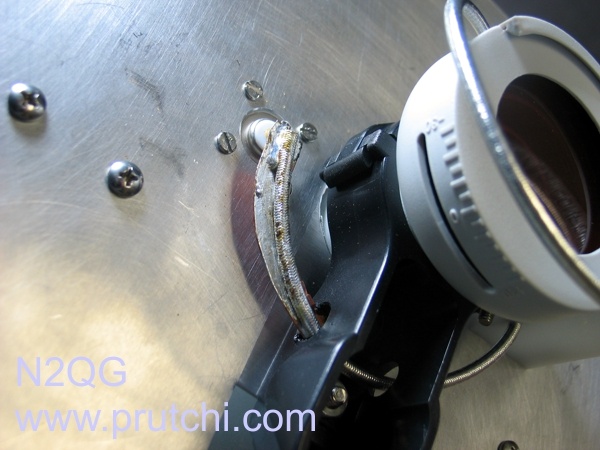 The  first quater turn (from the feed point) of the helix carries the matching stub at a distance of 5 mm above the groundplane (the helix reflector).  The stub is a 58 mm piece of 0.5 mm thick copper sheet, 12.5 mm wide.  I measured the SWR of my helix feed at 1,296 MHz to be below 1:2 over a bandwidth of 700 MHz.
Please visit www.diyPhysics.com and www.prutchi.com for other cutting-edge d.i.y. projects, and remember to check out our new d.i.y. Quantum Physics book: