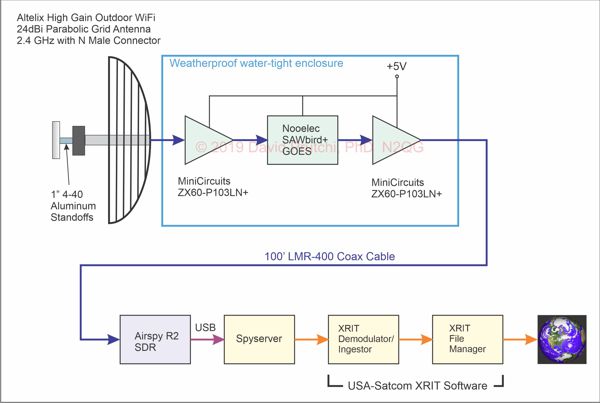 CLICK HERE for a detailed writeup  with high-resolution pictures in .pdf format.
The GOES-East (GOES-16) satellite (GOES=Geostationary Operational Environmental Satellite) operated by NASA and the National Oceanic and Atmospheric Administration (NOAA) is exactly due south of my QTH and provides a view of Earth centered right at my longitude (75°W).
GOES-16 transmits two interesting direct services:
The EMWIN (Emergency Managers Weather Information Network) service contains weather forecasts, warnings, graphics, and other information directly from the National Weather Service in near-real-time.
The HRIT (High Rate Information Transmission) service broadcasts GOES satellite imagery data and other weather-related products.
I wanted to experiment with receiving these services from the GOES 16 satellite, and to do so, I added a small grid parabolic antenna to the Az/El boom that drives my 12' EME dish. I purchased this antenna on eBay®. It is an Altelix WiFi 24dBi 2.4GHz parabolic dish with N-male connector that sells for $30: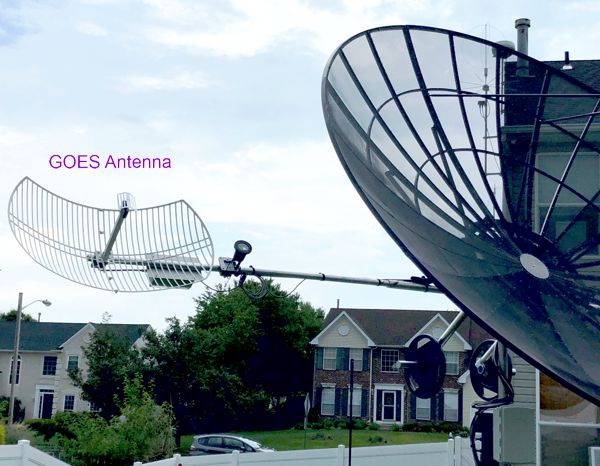 Continue reading→