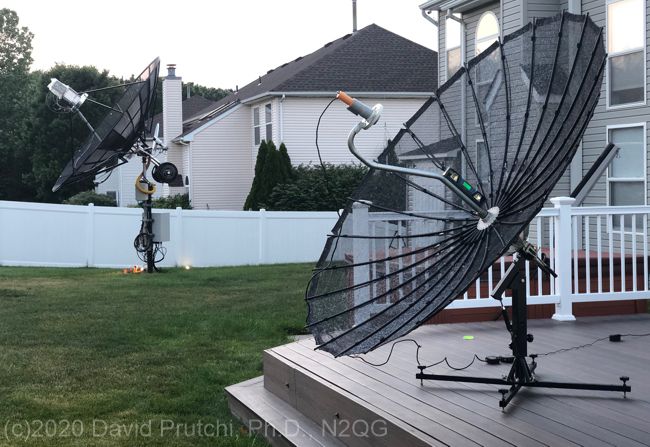 I've been planning ahead to the day when I retire, my girls live on their own, and my wife and I can finally take the big-RV roadtrip that we've been talking about forever.  Not being one for sitting by a campfire, I'm always collecting equipment to take along, and some time ago my ongoing eBay® search for a collapsible parabolic antenna hit gold.  It was for an EchoSphere 7.5 ft TVRO folding dish in mint condition.  It even came with an extra (slightly damaged) reflector assembly to boot!  My plan is to build feeds for 1296 MHz EME and S-Band DSN.  Sadly, 10 GHz EME and X-band DSN are out of range for the reflector's fabric.
Finding information on this dish has been much more difficult than I had anticipated.  I summarized my literature and experimental findings in a short write-up available at: The EchoStar RV-750 Antenna by N2QG
I couldn't find anything at all on the EchoStar RV-750, but a kind response from Peter Ibelings regarding his Twitter at https://twitter.com/ibelings/status/962699524392267777 was the big break in find out something about this.
In short, this dish was invented by Bob Luly (KA6KBU, SK) and shown to the public in 1980.  From Coop's Satellite Digest of August 1980:
"The single most exciting technology item at San Jose had to be Robert Luly's "Umbrella Antenna"; Featured on our front cover this month. Can you imagine a 12 pound ten foot antenna that folds into a package about 6 feet long by 9 inches wide and high? Or a 15 foot of the same design that weighs 15 pounds?  We got Luly to show us a private demonstration of his wonder July 4th and then we broke the antenna to the attendees in our Saturday morning 'Today At SPTS' TV show.  Luly was mobbed Saturday and well he-might have been at $495 single lot pricing for the 10 foot ($750 for the 15 footer). I don't know what others are doing but I'm packing his 15 footer with a Sat-Tec receiver I have built into a Sony 8 inch battery operated color TV.  I plan to spend September flying about the Caribbean  putting on 'airport satellite TV shows'.  A fellow can hit the ground and be showing off satellite TV in ten minutes, all on battery power, with a package you can carry under your arm in a two-seater airplane thanks to Luly's creative genius"
In 1985, TOKI of Canada entered into an agreement with Luly to produce these antennas.  I believe that my RV-750 was manufactured by TOKI.  Still, I wasn't able to find anything technical on this antenna, so I put it to the test.
The first thing to note is that the reflector's fabric is made of threads that incorporate some metallic filaments.  The approximate hole size is 3.75mm, or a pitch of about 6.5 threads per inch.  Assuming that openings in the mesh can be as large as 0.05? without allowing much ground noise to feed through the surface, the shortest wavelength for this dish would be around 7.5cm or 4GHz.  I thus expect this dish to work up to the TVRO C-band (3.7 to 4.2GHz) but not beyond that.
Using an inexpensive C/Ku combo LNB, the F/d for the antenna was confirmed at 0.4.  Signal strength from Galaxy 16 was decent on C-band.  I could see the satellite on my meter on Ku, but as expected, the S/N was too low for decoding at those frequencies.
In conclusion, the EchoStar RV-750 looks very promising as a portable antenna for weak-signal 23 cm operations, including CW and JT65 EME, as well as for L-band reception (e.g. GOES, Inmarsat), and S-band satellite/DSN.