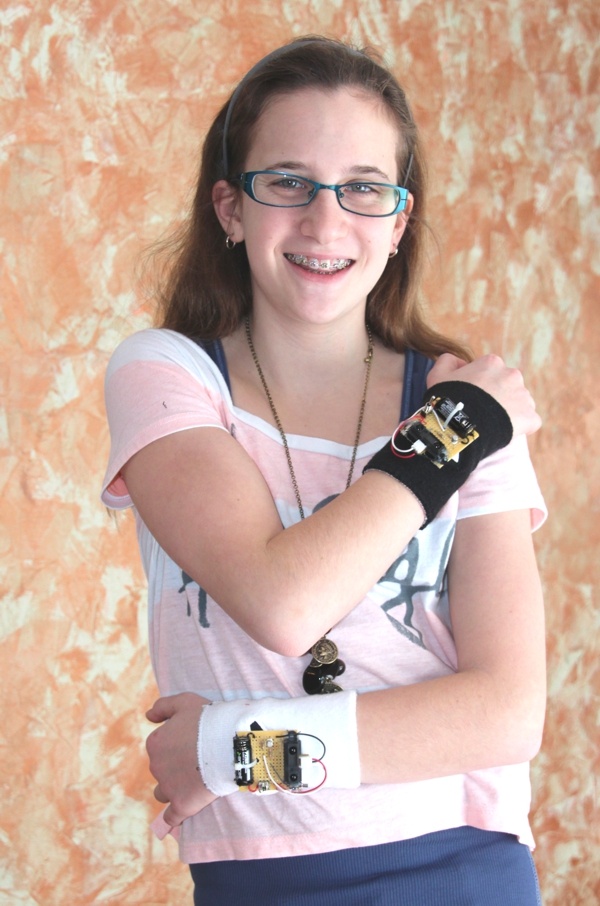 SharkVision – A Sensing Suit for the Blind
Hannah Prutchi, 8th Grade, Science, VMS, October 2011
Blind people often use canes to avoid obstacles when walking. But, these are intrusive, can only detect obstacles where they are pointed, and could be dangerous to other people.  I devised the "SharkVision Suit" to help blind people move around their environment more easily.
I developed this idea from the concept that sharks find their prey by sensing disturbances in an electrical field they form around their bodies. This suit simulates the shark's ability to sense objects around its body, giving a blind person a new type of sense.
Technologies that copy biological functions, such as this suit, are called biomimetic. Biomimetics comes from bios, Greek for "life," and mimetic which means "to imitate." Although humans don't have the shark's sense, scientists have also discovered that our brain quickly adapts to any information to compensate for a loss of function. This is called "neuroplasticity." The person's brain will easily get used to the new sense allowing the person to feel objects in his or her environment.
The suit has many distance sensors placed at different positions over the body. Each sensor activates a vibrator whenever an object gets at a certain distance. As a sensor gets closer to an object, the vibration gets stronger. This way, the user can sense near-by objects without touching them.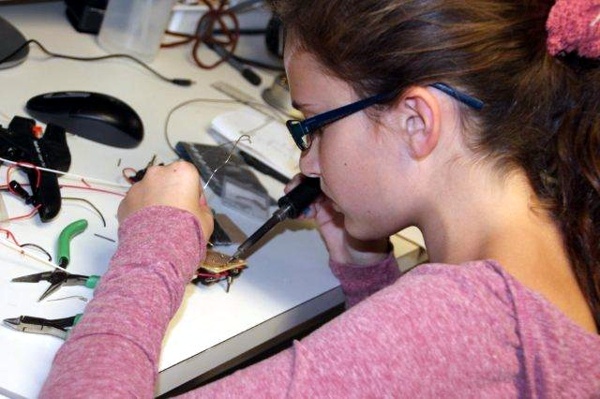 For my prototype bracelets I built a small circuit that uses a Sharp GP2D12 infrared sensor. The sensor picks up a signal by sending out a stream of infrared light. If the light bounces back, then the sensor knows something is there. The sensor then sends a signal to the transistor. The transistor amplifies the sensor's signal so that the vibrator can run. The resistors adjust the current from the transistor to vibrate the motor.  The vibration becomes stronger as an object approaches the sensor.
It is very easy for me to walk blindfolded around the house without bumping into things by just using my two prototype bracelets.  My friends and classmates quickly understood the idea, and were able to walk around with their eyes closed.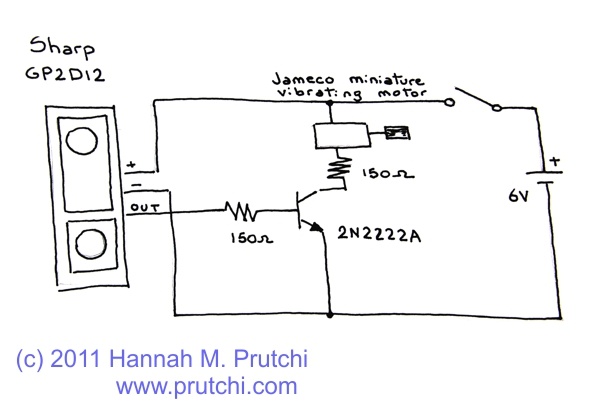 Please visit www.diyPhysics.com for other cutting-edge d.i.y. projects, and remember to check out our new d.i.y. Quantum Physics book: