The CoVid-19 quarantine has given me the opportunity to revisit neglected home projects, so I decided to add another Az/El dish to my antenna garden.   The main purpose of this new dish will be to serve as a low-gain testbead before moving an experiment to the 3.5 m dish.
My first experiment for the new dish will be on S-band DSN, especially to "learn the ropes" about tracking non-terrestrial-orbiting probes before I try it on the high-gain dish.
The S-band DSN frequencies are as follows:
The downlinks require the receiver to operate between 2200 and 2300 MHz.
As the LNA to be placed right at the antenna feed, I chose the 30 – 3000 MHz E-PHEMT-based Mini-Circuits ZX60-P103LN+ with the following specs (at 2 GHz):
Noise figure: 0.6 dB
Gain: 10 dB
Output power @ 1 dB compression: 2 dBm
Output IP3: 6 dBm
Input VSWR: 1.48 dB
Output VSWR: 2.36 dB
Isolation gain: 6.99 dB
DC supply: 5V @ 95 mA
An SMA-to-N adaptor makes it possible to mount the LNA directly to the antenna.  I put the whole assembly inside thick heat-shrink tubing, and then sealed it with RTV.  After curing, I wrapped the whole assembly with pro-grade (30 mil) self-vulcanizing silicone tape for a weather-tight seal.
My suburban location is full of signals which would interfere with S-band reception, so I need a good filter.  I found a cavity filter on eBay® that seems to perfectly match the requirements for S-band DSN.  It is made by RTx Technology in Korea:

Decoding the filter's label is easy:
Part Number
CF of CD or C**D
***
B***
L***
A***
Code
1) Cavity Filter

Cavity Duplexer

2) Center Frequency
3) BandWidth
4)

Insertion Loss

5)

Attenuation

 Filter Label
CF
1485-2250
B100
L0.5
A20
Spec
Type:

Cavity Filter

Center Frequencies:

1485 MHz,

2250 MHz

Bandwidth:

100 MHz

Insertion Loss:

0.5 dB

Attenuation:

20 dB
The filter is actually built for military telemetry operations, since the 1435-1535 and 2200-2300 MHz bands are allocated to aeronautical and aerospace telemetry.  The band assignments covered by this filter are as follows:
L Band (1435 to 1535 MHz) – Aeronautical Telemetry and Mobile-Satellite Service:
This band is allocated in the US for government and non-government aeronautical telemetry use on a shared basis. The non-government use of this band is coordinated by the Aerospace and Flight Test Radio Coordinating Council (AFTRCC). The frequencies in this range are assigned for aeronautical telemetry and associated remote-control operations for testing of manned or unmanned aircraft, missiles, rocket sleds, and other vehicles or their major components. Authorized usage includes telemetry associated with launching and reentry into the Earth's atmosphere, as well as any incidental orbiting prior to reentry of manned or unmanned vehicles undergoing flight tests. The following frequencies are shared with flight telemetering mobile stations: 1444.5, 1453.5, 1501.5, 1515.5, 1524.5, and 1525.5 MHz.
1435 to 1525 MHz. This frequency range is allocated for the exclusive use of aeronautical telemetry in the US.
1525 to 1530 MHz. Is now primarily a Mobile-Satellite Service. The Mobile Service (includes aeronautical telemetry) is now a secondary service in this band.
1530 to 1535 MHz. The Maritime Mobile-Satellite Service is a primary service in the frequency band from 1530 to 1535 MHz. The Mobile Service (including aeronautical telemetry) is a secondary service in this band.
S Band (2200 to 2300 MHz) – Space operations:
2200 to 2290 MHz. These frequencies are shared equally by the US Government's fixed, mobile, space research, space operation, and Earth exploration-satellite services. These frequencies include telemetry associated with launch vehicles, missiles, upper atmosphere research rockets, and space vehicles regardless of their trajectories.
2290 to 2300 MHz. Allocations in this range are for the space research service (deep space only) on a shared basis with the fixed and mobile (except aeronautical mobile) services.
My friend Jason (KC2TDS) looked at the filter with the VNA, and it performs exactly as expected.  Unfortunately, because of the CoVid-19 stay-at-home mandate, I can't readily retrieve the VNA plots to post.
I packaged the RTx Technology filter, a second Mini-Circuits ZX60-P103LN+ amplifier (as the second-stage LNA and cable driver), and a 12V-to-5V DC/DC converter to supply the LNAs.  The enclosure is watertight, and I further sealed the connectors with flowable RTV.
In the shack, I receive the signals using an AOR AR-5000 receiver connected via the 10.7 MHz IF to an SDR-14 which displays using the SpectraVue software.  I drive the clock reference of the AR5000 with either a rubidium- or GPS-locked 10 MHz oscillator.
I'm waiting for the weather to improve to be able to plant the mast for the new Az/El dish.  On the meantime, I connected the LNA to the ham 2.4 GHz RHCP antenna on my existing VHF/UHF Az/El array.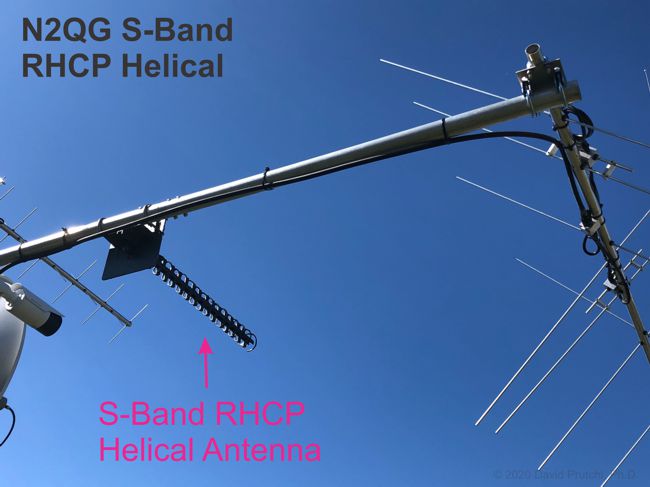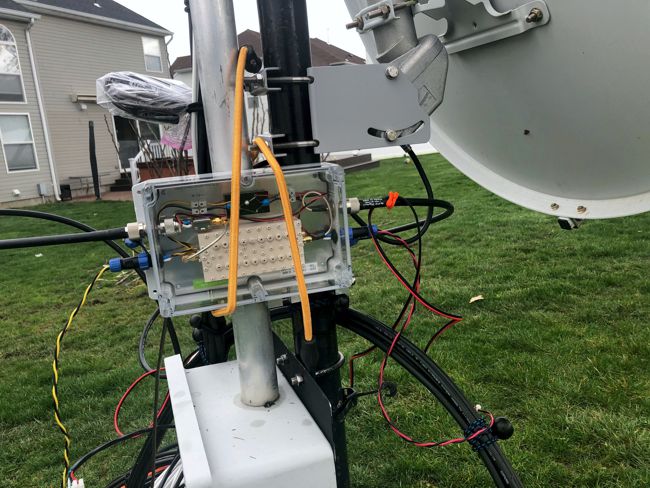 I asked famous amateur satellite hunter Scott Tilley (VE7TIL, Scott's blog is at https://skyriddles.wordpress.com/author/coastal8049/) what would be a good object to observe to check that the S-band system operates as intended.  He suggested looking for the geostationary SDS satellites at 2242.5 MHz.  Their mission is classified, but it is believed that these are third-generation Satellite Data System satellite operated by the United States National Reconnaissance Office to relay data from American reconnaissance satellites to ground stations.
I pointed the array at the geostationary belt in my East sky (around 30W), and the 2242.5 MHz came in very strongly:
Another satellite that Scott suggested for initial tests is DSP-F21.  This is a satellite of the US Air Force's Defense Support Program (DSP) which operates the Satellite Early Warning System.  The TLEs for this satellite (USA-159) are distributed by SpaceTrack.  The satellite was launched in 2001 and is still active for missile launch detection.  Scott told me to try 2237.5 MHz, which is the frequency that he monitors for Early Warning and LEO SIGINT.  In one of his tweets he also mentioned 2232.5 MHz as the frequency used for SIGINT missions.
The position of the satellite is not being controlled in inclination just longitude, so the satellite is somewhat at the mercy of gravitational forces (like Earth's gravitational anomalies and the tug of the Moon)  that cause it to drift and describe a figure-of-eight path on the ground.  In addition, its carrier is not very stable.
For the purposes of my testing this is a good thing, since it means that the signal transmitted from DSP-F21 experiences a predictable Doppler shift that allows me to ascertain that what I'm receiving actually comes from that satellite.  The following figure shows the signal I received from DSP-F21 last night (from 22:53 UTC on 2020-03-31 to 6:40:47 UTC 2020-04-01).