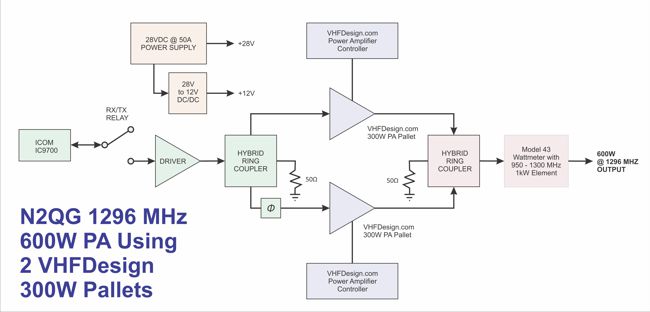 Before I package my 600W 1296MHz Power Amplifier into a single enclosure to be placed closer to the antenna, I thought it would be a good idea to take some pictures and draw a block diagram in case anyone wants to build something similar.
My original idea was to build a 600W PA using W6PQL boards.  However, things have become very busy at work, so realistically building the PA would have taken a very long time.  As a compromise, I decided to buy a 300W pallet and its companion controller from VHFDesign, not really knowing how that would go.
I was very pleasantly surprised by the VHFDesign unit.  I purchased it directly from their website using PayPal.  The unit arrived quite quickly from Ukraine.  The instructions are clear, so once I got around to it, installation went easily.  Their 2-cascade LNA has also been a pleasure to use, but I'll leave that review for a future post.
After working at 300W for a while, I decided it was time for an upgrade, so I purchased a second unit with the intention of combining their outputs using ring hybrid couplers.  The final block diagram is shown in this figure.  The splayed-out view of the modules is shown in the following figure: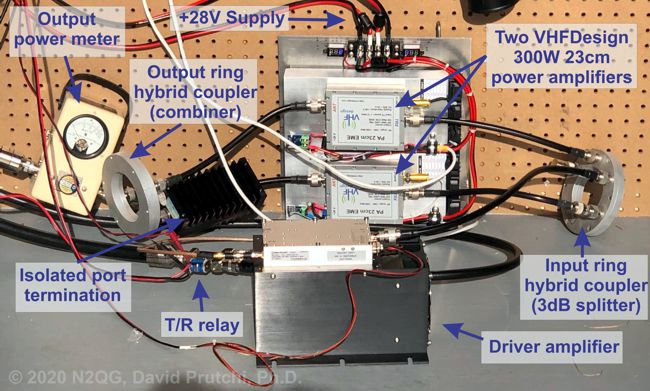 With an output of 326W for each VHFDesign pallet, each (suitable for CW and SSB), The PA produces a combined output of 600W.  IMPORTANT NOTE: See my post about phase equalization!  I'll optimize cabling and phase matching once I assemble everything into a single enclosure.  For now, it all works nicely splayed-out indoors.